Cleaning Android junk files or unused data is a very good way to increase Android phone's overall performance. It not only improves the speed but also removes junk files and enhances battery life as well. So, we have to clean junk files of our phone on a regular basis.
This is where Android Cleaner Apps come to help.
An Android Cleaner App helps to boost your phone's speed and responsiveness. It does multiple works in your device. It works as Speed Booster, Cache & Junk Cleaner, Battery Saver & more. These apps are very easy to use. There is nothing complex. You can do everything with a single tap on the screen.
There are lots of Android Cleaning Apps available in Play Store. Here I have listed 7 best cleaner apps for Android. These apps are very popular & trusted by millions of people. Let's take a look at the best cleaner apps for Android. But before going to the main topic, you should know.
What Are Junk Files?
Junk files are created by the running apps or by the uninstalled apps. It includes cache files, residual files, temporary files & more. This remains in your device after work. These files are useless. Over time, they are stored in the phone's memory & slow down your phone.
Now back to our topic. Below is a list of best Android cleaning apps you could find in 2019.
Clean Master
Clean Master is a leading cleaner app on Android. It cleans up your phone with its powerful features like Junk Cleaner & Notification Cleaner.
Junk Cleaner removes your phone's System Caches, junk app files & more. There is no risk to your personal data.  With the help of Notification Cleaner, you can clear all the junk notifications after reading useful messages.
Besides cleaning the junk files, Clean Master also saves your phone from viruses with a powerful Antivirus Engine.
Some Additional Features:
Wi-Fi Security for detecting fake Wi-Fi.

Battery Saver to Extend the Battery Life.

Game Master for improving the loading speed of games.

AppLock for your app privacy.

Charging Master to prevent overcharging.
Cons:
Although it is small in size it saves the cached data in RAM memory. Means, it eats unnecessary space.

The quick charge feature may cause overheating.
Go Speed
Go Speed is a light-weight Android Cleaner Application. It comes with a powerful junk killer with intelligent scan. It removes all your junk data such as cache, residual files, temp files & more.
Go Speed offers you to clean all the junks with one tap. It can deeply clean your phone to free up phone's space & speed up your device. They promise to boost the speed of your phone by up to 60% after optimizing.
Some Additional Features:
Auto Start Manager to keep your phone smooth & faster.

Floating Widget for boosting phone with a single drag.

Notification Toggle for Speeding up your mobile life.

Pre-installed App Terminator for More Space.
Cons:
Creepy & tricky ads.

Not as good as it claims.
Super Cleaner
With more than 100 million downloads, it is one of the best Android Cleaner Apps. It is a multi-feature cleaner app. This works as a Junk Cleaner, Cache Cleaner, Storage Cleaner as well as Virus Cleaner.
You can remove the junk files & boost your phone speed with only one tap. Cache Cleaner delete the residual system cache files that left by uninstalled apps. Its Storage Optimizer deletes the duplicate files to free up space.
This also works as an Antivirus app. Super Cleaner is powered by a world-class virus detection engine. It protects your device from all virus attacks & other threats.
Some Additional Features:
CPU Cooler to decrease CPU temperature.

Phone Booster to free up RAM.

Security App Lock to give extra password protection.

Game Booster to boost gaming performance.

Notification Cleaner & Manager to compile all useless notifications.

Private Browsing for safe surfing.

Smart Charge for charging state.
Cons:
Too Many Ads.

Need extensive RAM to operate.
Power Clean
Now comes to the Power Clean, our fourth member in the list.  It is a very simple but effective Android cleaner app. More than 100 million people have trusted this app. It comes with powerful Junk Scan Engine that detects useless files & cleans them.
Power Clean can detect duplicate files, keep the best & remove the others. This analyses battery usage & stops the battery draining apps to save power. You can easily block junk notifications to keep your notification area clear.  It offers a quick booster that frees up your device's RAM at once.
Some Additional Features:
CPU Cooler to stop overheating apps.

AppLock for Additional privacy.

Monitor Hardware Health Status.

App Manager for Marinating Apps.
Cons:
Eat extra battery for background tasks.

No Antivirus Support.
ACE Cleaner
ACE Cleaner is an effective Android cleaner application. Its unique Ace clean & boosting engine can maximum your phone's performance. It removes all types of junk files (Ad junk, cache junk, memory junk) from your device.
It offers to optimize your phone system & apps with one tap. This discovers the similar photos automatically & removes them to your device. Ace Cleaner is a small but powerful cleaner app for Android.
Some Additional Features:
Quiet Notifications.

App Lock for your sensitive apps.

App Manager to maintain apps.

Clean tool for Facebook.
Cons:
No Antivirus Support.

Limited Functionalities.
Max Cleaner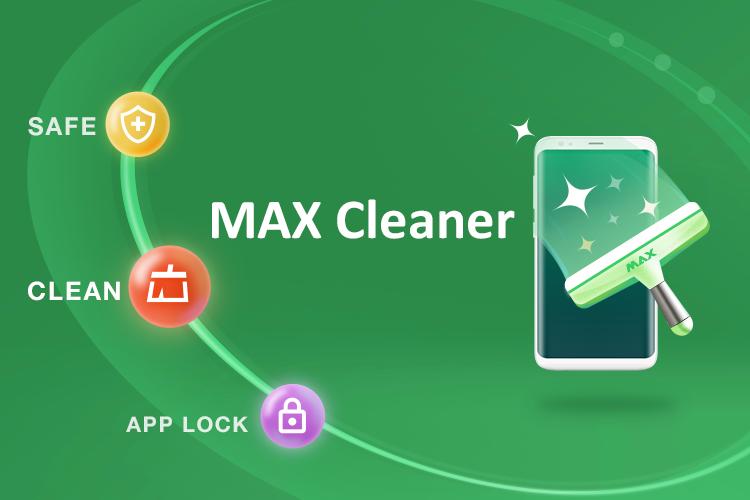 Meet our sixth member, Max Cleaner. It is a very powerful optimization tool. It removes unwanted junk files from your phone. This also cleans up unused & duplicate files to free up your file space. You can clean unwanted notifications with the help of Junk & Memory cleaner.
Apart from cleaning files, it also provides professional antivirus & phone cleaner service. This can block & remove virus to keep your phone safe from potential threats. It also improves the overall performance to make your device smoother & faster.
Some Additional Features:
Antivirus Master for security.

App Locker for sensitive apps.

Powerful Call Blocker & Assistant.
Cons:
So Many Ads.

Take Time to Clean, Boost & Cool Down.
Nox Cleaner
Nox Cleaner is a cleaning app for Android that comes with an attractive interface. It is one of the best cleaner apps with multiple features. It cleans unwanted junk files that slow down your mobile. You can easily clean your trash with one touch.
Nox Cleaner optimizes your storage space & makes your phone lighter & faster. This comes with real-time Antivirus support. It protects your device from various dangerous viruses. Do a single tap to secure your phone against all the viruses.
Some Additional Features:
Game Booster for the lag-free gaming experience.

Battery Saver to optimize Battery life.

CPU Cooler to reduce CPU temperature.

Photo Management to maintain a photo gallery.

App Manager to provide more Storage & Space.
Cons:
Showing Pop-Up Ads.

Not Good as it says.
So, these are the top 7 Android Cleaner Apps. You can choose any of them to clean & optimize your device. I hope you like the list of Android Cleaner Apps. What is your favorite Android cleaner app? Let me know in the comment.