Have you ever got stuck with an Excel file which is password protected? If yes, then it is a usual thing as that's how essential and classified data are protected from prying eyes. Excel file format is heavily used for storing voluminous datasheets, which could contain salary details, contact numbers, progress reports, etc. which should be protected with utmost security. Thus password is required at one point of time.
But if you ever stumble upon one such password protected file, and you need to open it on a serious note, then you have to think a way around to remove the password protection on Excel document. The task is not as difficult as it sounds to be, but needs some preparation prior to performing it. The article here is solely dedicated to demonstrate the same.
Method #1: Open Password Protected Excel with Lastic
Lastic is a powerful password remover tool which can remove any type password protected file format. It is available free of cost on the internet, and can crack other file formats too. It makes use of secured password hacking servers in some cases if required, and displays the cracked password in the main window. Now the steps to guide you through the manual are listed below:
Step 1. Get the software of the compatible version directly from the internet and securely install it on any of your working computer.

Step 2. Open the program with admin privileges to broaden the scope of access, and browse the target excel file from the main window's screen or using the search bar.

Step 3. When the file is loaded onto the program, click on "Crack" button to begin the password recovery phenomenon.

Step 4. Wait till the password is cracked as it may take more time than what you had expected depending upon its structure. Once completed, the cracked password will be shown on the screen.

Step 5. You can then note down the password to a safer location from where it can retrieved again and again if necessary.
CONS:
It can crack the latest version Excel Files that is 2016 version, but only the earlier versions.

The software does not work fine with all the Window's OS versions, so it is not recommendable all the time.
Method #2: Remove Password Protection from Excel
 If you have been pulling your hair out of successive failures with irrelevant methods to remove Excel file password, then you will be glad to know that your predicament is over with Password Recovery Bundle. This is an exceptionally well built password cracking tool which can crack literally any type of password, whether it is a file protected password or system oriented password.  This program majorly uses three different types of attacks- Brute Force Attack, Dictionary Attack, Brute force with Mask Attack to search your Excel password within the shortest time. and does not damage the original content of the Excel files while decrypting the password.
Key Features:
 Recover: Open password and worksheet/workbook password with 86% success rate.

3 different types of attacks – Brute Force Attack, Dictionary Attack, Brute force with Mask Attack.

  NVIDIA GPU acceleration can recover Excel password about 20 to 40 times faster than a CPU alone. 
User-Guide
Step 1. The first line of action is to download and install the software on the very computer which contains the target password protected excel file.
Step 2. Next click on the option that reads "Recover Open Password from Excel" form the main tool screen.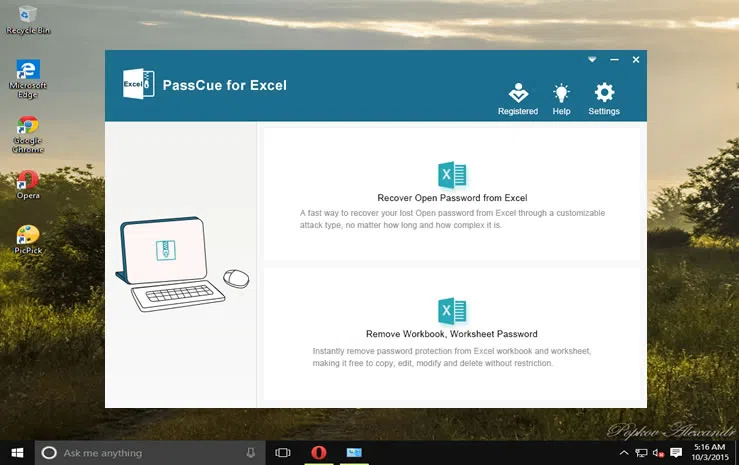 Step 3. When the next page turns up, click on "Open" on the right hand pane to browse the specific password protected excel file that you wish to remove.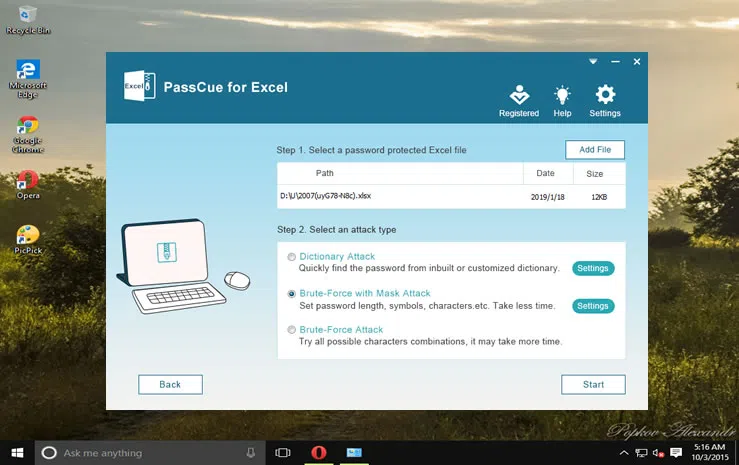 Step 4. Once the target file is chosen and loaded onto the tool's interface, pick up the type of attack. Brute force attack is commonly used, and Dictionary Attack is used in case the password is of single work with relevant meaning from a dictionary. Here we would prefer brute force attack only.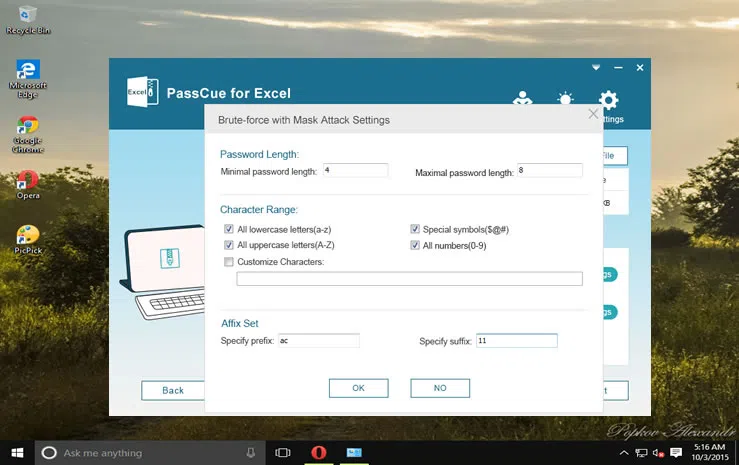 Step 5. Once all the parameters in the last step are set perfectly, click "Start" button right away and the excel file will be available to you briefly depending upon the complexity of the password. On the final page, you get to choose either to "copy" the cracked password or to open the file directly, and that's completely up to you.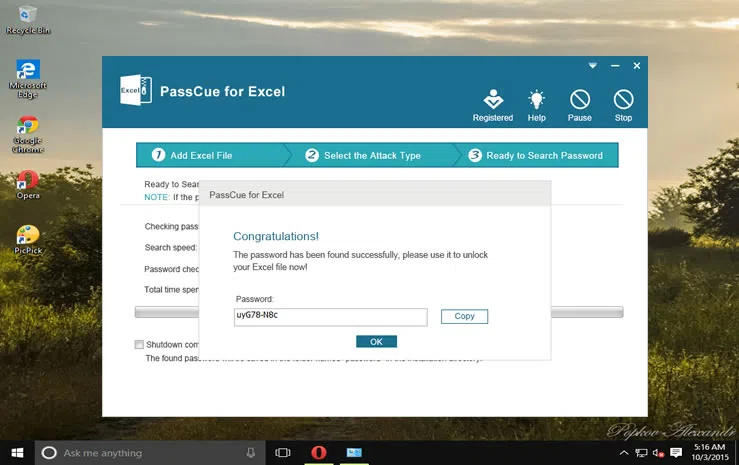 Method #3: Remove Excel Password Protection Online
Like we mentioned, there are many services available online that allows you to remove the password of excel file online. In this part we are going to use password-find.com to remove the password of Excel file. Keep in mind, this is a paid service and will require you to pay like $40 to open password protected Excel document. The price is high but if you are desperate then go for it.
Step 1. Open any browser on your PC or smartphone and visit password-find.com

Step 2. Click on "Unprotect your file" to see the following page –

Step 3. Click on "Browse" and locate file from the local drive. Then click on "I accept the Service Agreement" and upload the file.

Step 4. Then click on "Next" to proceed to the following page. Within few moments the password should be cracked but many times it is proved to be ineffective.
Cons –
It's not safe because you need to upload Excel to their server.

Crack files up to 10 MB size.

Not 100% guaranteed if the password could be recovered or not.

Support system takes forever to response.
Conclusion:
As you can clearly point out that out of the three  methods mentioned here in the article. Password Recovery Bundle is the most intuitive and versatile software to give you the exact and perfect result you are so aspiring.