Setting up a password for important workbooks is quite important and rather necessary these days. The logic is simple, only the authorized people will have access to the Excel and rest won't be able to. This will completely give you the control over the document especially if you are writing a workbook that you don't want others to look for security reasons. One more thing, only the person who knows the password will be able to open the files – read, modifies or erases any content inside Excel.
Many a times you have come across a situation, when you are stuck with an excel file which is password protected and you have no idea about the password so far. You might look out for an expert advice, but mostly advices worsen the situations than ever before and if you strive hard with irrelevant third party tools and supports online without any actual deeper knowledge, then you might end up doomed with no result at the worst.
But now you don't need to brood over the resolution part, as  we will deliberately show you two profoundly successful and reliable utilities here to help you unprotect an excel workbook password.
Method #1: Unlock Excel Password with Freeware
Free word and excel password recovery wizard is a freeware online utility which has a remarkable potential to unprotect word and excel file password. But since we are onto the Excel files here, we would avoid the discussion concerning word documents for the time being. The tool provides two types of attack, one Brute force and another Dictionary. The wonder of this tool is further elaborated in the article section below as follows:
Step 1. Download and install it adequately with steps instructions.

 Launch the program by double clicking the tool icon on the home screen.

Step 2. Now load the excel file by clicking on the "Browse" button and selecting the file pathway. Click on "Open" button again on the file opener window and the file will be instantly loaded onto the tool's UI.

Step 4. Next select your attack type. To begin with, you can try out Dictionary attack which looks for relevant single words in vocabulary. But if it fails to perform as per your expectation, try the Brute force attack. It will without a doubt pull over the task.
Step 5. Once the file loaded and the attack type is decided, click on "Go" button and the protocol will be initiated. You can pause it or resume it also if you need to in the meanwhile.
Step 6. The process will take some time. When the password is recovered successfully, copy the password to somewhere from where you can access it again and again.
CONS:
The utility is not provided with mask attack which helps greatly when you brute does not seem to work.

It does not support any other file format, except word and excel files.
Also read: How to Open Password Protected Excel Files 2007/2010/2013/2016?
Method #2: Unlock Excel Workbook using Password Recovery
If you are severely tired of trying out so many tools available online, and nothing of exacting value you get to see, then it is your high time to try your luck with Excel Password unlocker. It is an amazing toolkit which poses the potential to unlock any type of Excel passwords. Unlike the previous tool, it is provided with mask attack in addition to dictionary and brute force attacks. One thing is very important to keep it under continence is that you must use the same computer that stores the secured excel file. Using any other computer will not work out here.
Tool's Notable Features:
Support to recover 3 password types: open password, workbook and worksheet password.

All the Windows OS works fine:Windows server 2000/ 202/ 2016, Vista/ XP/ 7/ 8/ 10, etc.

Three types of attacks are seen to be added- Brute Force attack; Dictionary attack; Brute force with mask attack.

You can pause and resume the recovery process anytime as per your choice.

No data is altered during the process of recovery.
Now once you are acquainted with the features, read the steps below to know how the tool works actually:
Step 1. Avail your computer by first downloading and then installing the program with installation wizard. Right click on it and choose "Run as administrator" to run it with admin privileges.
Step 2. When the tool's window turns around, click on "Recover the open password from Excel".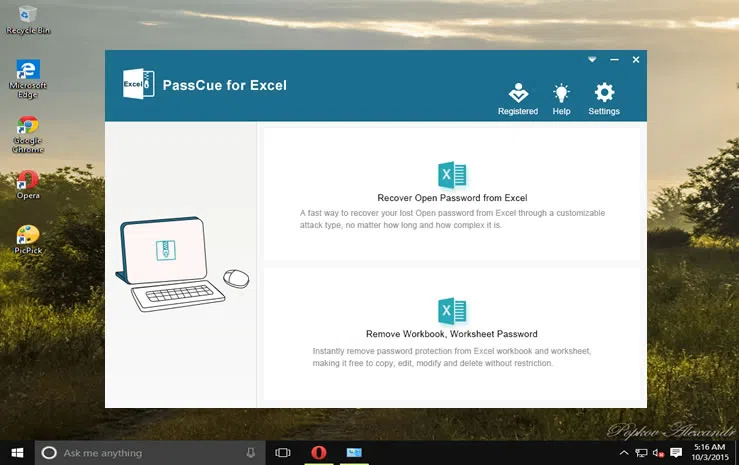 Step 3. Then click on "Open" button to browse the file and to load it thereby on the tool's screen.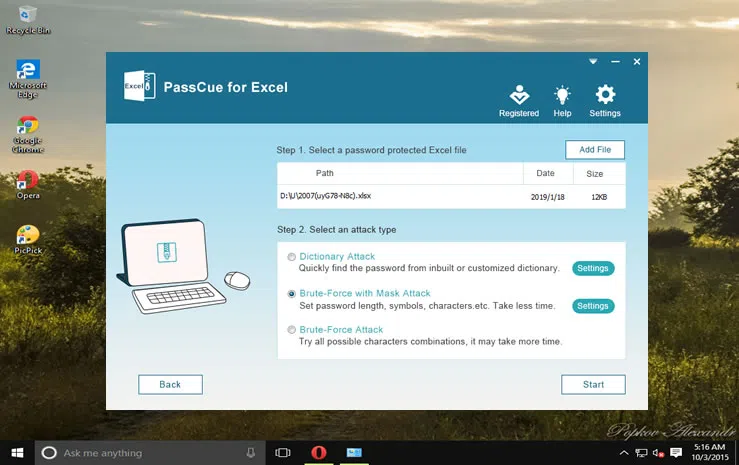 Step 5. Choose your attack types from the three attack type options available. We are using the Brute Force attack for our convenience. If it fails to do the job, you can try out the mask attack as well.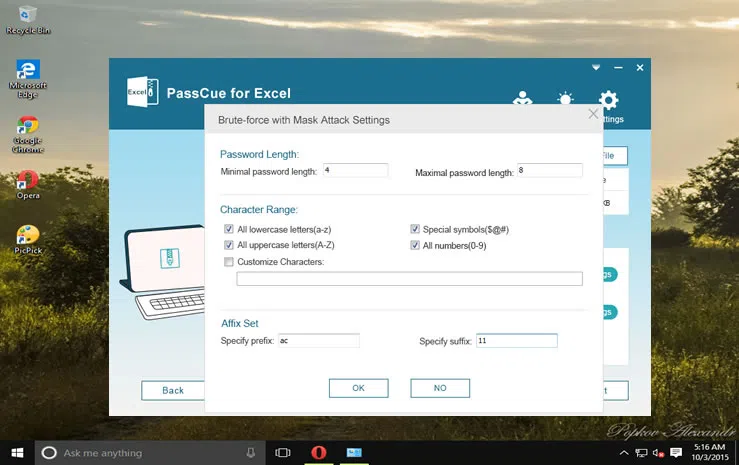 Step 6. Now finally click on "Start" button to begin the password recovery process. Till the process takes time, be patient, and once the password is cracked, copy it or open it straight away to check out its contents.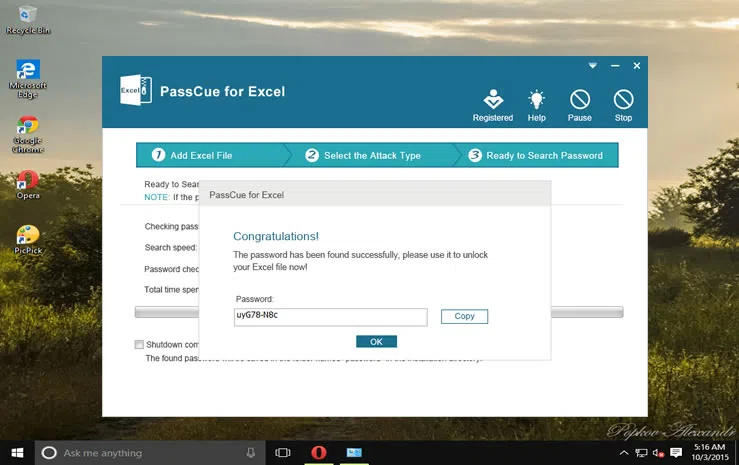 Conclusion:
After you have acquired the cracked password using any of the tools mentioned above, save it somewhere for further usage. And if you wish to get a desired or guaranteed result, then you must adhere to Password Recovery Bundle Tool. Make sure to keep the tool installed on your computer for if you lose or forget the password again, you would definitely need it.